"Kansas Joe" McCoy (above, left) first appeared on record backing the minstrel singer Alec Johnson in 1928, and by 1930, was playing with harmonica player Jed Davenport and his Beale Street Jug Band. But his biggest early success came when he recorded the hit song "Bumble Bee Blues" with his singer/guitarist wife, Memphis Minnie. The duo went on to record nearly 100 sides, including Joe's composition "When the Levee Breaks" (later covered by Led Zeppelin), before they split up in 1934.
In 1935, and now a resident of Chicago, Joe made some forays into recorded sermons as "Hallelujah Joe," but he found more work backing the likes of Rosetta Howard and Frankie Jaxon as part of a house band at Decca Records that included his brother Charlie on mandolin, trumpeter Herb Morand, clarinetist Odell Rand and bassist John Lindsay from New Orleans, and young Chicago musicians on piano and drums. This lineup gelled well enough that Decca released some McCoy/Morand compositions under the name the Harlem Hamfats, and the group quickly hit it big with songs like "Oh Red" and "Let's Get Drunk and Truck." One of Joe's compositions from this period, "Weed Smoker's Dream," was later rewritten as "Why Don't You Do Right," and became a jazz standard after its treatment by Peggy Lee and the Benny Goodman Orchestra.
After recording strikes and shellac rationing sent the music industry into disarray, Joe returned to his jug band roots with two consecutive groups, Big Joe's Washboard Band and Big Joe and His Rhythm, both featuring harmonica player Robert Nighthawk. Their recordings combined down-home lyrics and instrumentation with the latest swing rhythms.
In January 1950, at the age of 44, Joe suffered a fatal stroke and was buried at Restvale Cemetery in Chicago's south suburbs.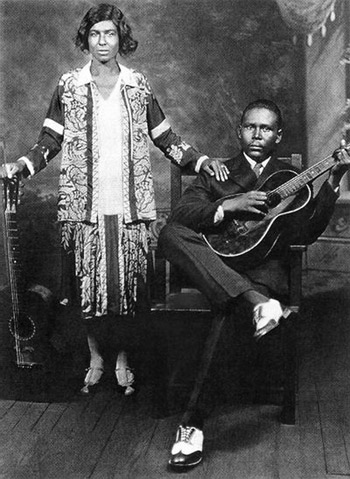 Joe McCoy and Memphis Minnie